Guestbook Zwarte Valk
Zdenek Kotulak
September 2019
At tall ship Zwarte Valk, I spent a very nice week with a group of my Czech friends in August this year. Especially thanks to organizer Monique and skipper Hessel and his assistant Wenke. Your service was absolutely excellent. For most of the Czech team, this was the first experience of tall ship sailing. Everyone was thrilled.
We will certainly be back again. Thank you.
Ambroise
September 2019
Het laatste weekend van augustus 2019 vond ons bedrijfsuitje plaats. Wij zijn meegevaren op de Zwarte Valk met schipper Hessel en matroos Wemke. Zij hebben ons tijdens de vaartochten de fijne knijpjes van het zeilen geleerd. Geen vraag was hun te gek en ze legden alles uit wat we wilden weten.
We zijn van Makkum naar Terschelling gevaren en via de West-Friese kust weer terug. Het was een prachtig weekend. Bedankt!
Sabine
Juli 2019
Wir haben ein lustiges und unvergessliches Wochenende auf der Zwarte Valk mit Freunden verbracht. Die Ausstattung nebst Spülmaschine!! und Sauberkeit des Schiffes haben uns mehr als überzeugt! Die acht Doppelkabinen waren alle mit Oberlichtern und einem Bullauge versehen, was erheblich zum positiven Raumgefühl beitrug! Es gibt sogar vier Doppelkabinen, in denen die Betten nebeneinander sind. Skipper Hessel und seine Matrosin Wemke sind ein super sympathisches Team und die beiden haben uns sicher über das Ijsselmeer und durch die Schleuse über die Nordsee bis nach Terschelling und zurück geschippert. Wir kommen gerne wieder!!
N. Bulling
Juni 2019
wir haben den Törn sehr genossen. Hessel und Conrad waren ein super Team.
Gerne wollen wir in Zukunft mal wieder mit Ihnen ein solches Wochenende wiederholen.
André und Britta
Mei 2019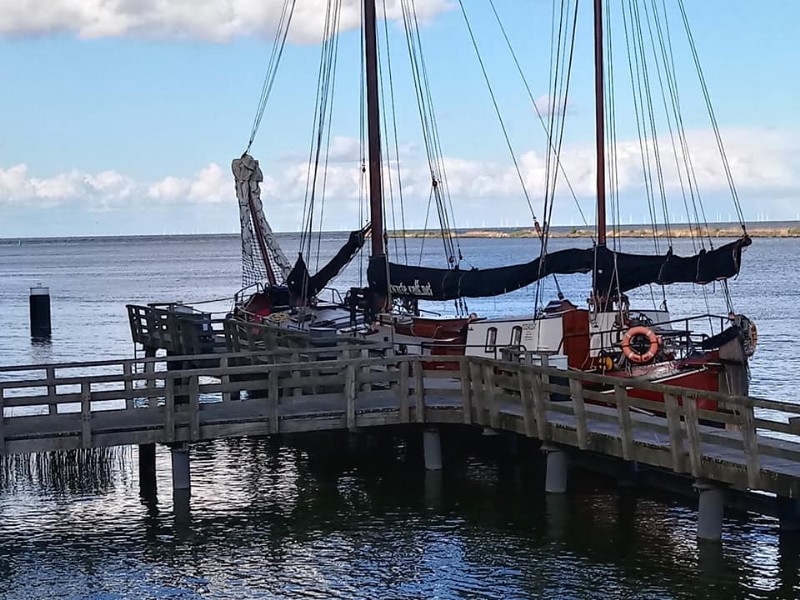 Wir sind mit Freunden vom Niederrhein und Ruhrgebiet nun mit dem Zwarte Valk seit 2010 regelmäßig im Mai an einem Wochenende unterwegs und jedes Mal begeistert. Texel, Vlieland oder Terchelling zu besuchen oder wie nun mal im Iysselmeer zu segeln hat alles seinen Reiz. Den Ort Enkhuizen fanden wir ganz reizvoll, wo wir auf Empfehlung der tollen Schiffsführer Hessel und Wemke diesmal festgemacht haben.Wir freuen uns schon aufs nächste Mal! Und immer einen handbreit Wasser unterm Kiel....hejo